By Good News Network Sunday, February 16, 2014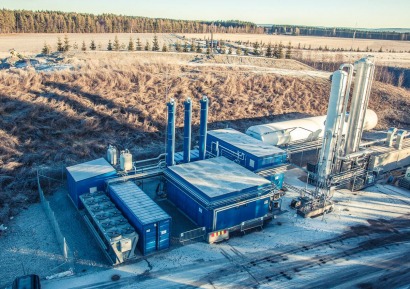 ]
A plant in Norway last week began converting household food waste into liquid biogas fuel to run the city's 135 buses. As a result, carbon dioxide (CO2) emissions will be reduced by some 10,000 tons each year, and particulate matter cut, too.
The biogas liquefaction plant was brought online February 12 by a Norwegian specialist in bio-waste treatment. The City of Oslo and EGE (its Waste-to-Energy Agency) are now producing biomethane from the food waste that will be used as liquid renewable fuel for the cleaner, green bus fleet.
The plant, located in Romerike, an agricultural region nearby, will treat 50,000 tons of food waste per year to produce around 14,000 cubic meters per day of biomethane. The liquefied biogas can then be efficiently transported for use as fuel.
"This plant will mean that 135 Oslo region buses will be able to run on biogas. As a result, the air will be cleaner and noise levels will be reduced, benefits that everyone in the region will enjoy," said Jannicke Gerner Bjerkås, Director Communications for Oslo's Waste-to-Energy Agency.
The EU has set a target to have 20 percent of its energy produced from renewable sources by the year 2020.
For more information, go to: http://www.renewableenergymagazine.com/article/biogas-liquefaction-plant-to-power-buses-in-20140212