Eco Art: Dreaming of Fall
It's been so hot this summer, I've been hoping for an earlier Fall!


Date: 8/29/2018 9:51:48 PM ( 4 y ) ... viewed 1210 times

"Dreaming of Fall" Eco Art placard by mayah(c)2018 approximately 7" x 6"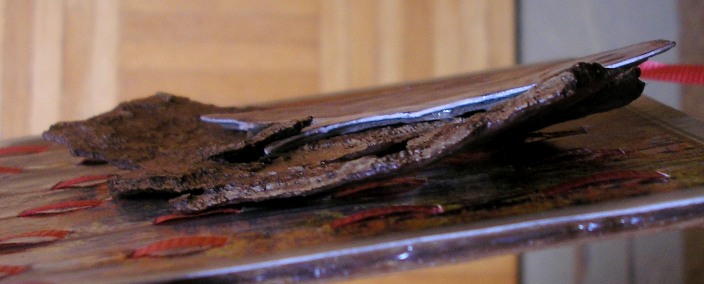 Side view --tree bark with owl "stick out" of the background for a 3-D look.



Recycled materials: background photo of forest from junk mail catalog over cardboard backing; tree bark; barn owl photo from bird guide. Ribbon.


Sometimes I have no idea how I'm going to make a piece of art, and one idea chases another. Often it takes more time thinking about what and how to make a piece of art than actually creating it; this one is an example of this process:

Our family owned an independent book store for many years. The store was closed years ago but book companies still send catalogs to me on occasion. I received a catalog for books in the mail this week, and on the cover was this beautiful photo of a forest in fall colors. Just what I've been wishing for...an earlier Fall and cooler weather!

I knew immediately I wanted to make a piece of art from the photo--cut it out and put acrylic glaze over it to preserve it.* Then an idea popped into my head to add ribbon to it--out came the Exacto knife and a metal ruler, and small cuts in the photo were made, the ribbon strung through, and then the whole thing mounted on a piece of cardboard backing for strength. Well, that's nice, but it's missing something.

What more to compliment the fall colors of the photo than a piece of wood bark? The trees around my neighborhood shed their outer bark in the summer--I like to think they're shedding their "skin" in order to keep cooler but I think it's really part of their growth process. The piece of tree bark was rather fragile and it already had a crack in it, so it was reinforced with layers of white glue** on the back and acrylic glaze to strengthen it and make it more flexible.

The barn owl photo is from a pocket bird guide that I picked up on a trip to Kansas at a state park a couple of years ago; I really like that the owl is staring straight at the viewer.*** The guide states that one of the places barn owls like to roost is in holes in hollow trees; I thought it would make a perfect addition to the wood bark. The bird photo was cut out, reinforced with white glue and cardboard on the back, and acrylic glaze coating to preserve it.

It's hard to see from the 2-D photo, but the barn owl and tree bark "stick out" from the be-ribboned forest for a 3-D look.


***Barn owl photo by Bob Gress from "A Pocket Guide to Kansas Raptors" Third Edition; Text by Bob Gress and Vanessa Avara; photos by Bob Gress. 2013 Great Plains Nature Center. To see more of Bob Gress's wonderful bird photos go to: http://www.BirdsInFocus.com

** Weldbond: "Weldbond is a universal adhesive that bonds most anything. It is non-toxic, nonflammable and free of fumes. Weldbond is created without animal by-products and environmentally friendly. It carries the EcoLogo seal of approval certifying that it is created without the use of formaldehyde, toxic metals or excessive VOCs." https://www.homedepot.com/p/Weldbond-14-2-oz-Interior-and-Exterior-All-Purpose-Adhesive-8-50420/205794934

*AcriGlaze: Clear artist's glaze in Gloss or Matte "SafeCoat AcriGlaze is a non-toxic, clear, topical sealer...It can also serve as a reducer for any type of waterbased paint, as well as a special mixing medium and finish for use in display, art and tradeshow projects." https://www.greenbuildingsupply.com/All-Products/Paints-Coatings-Wood-Stains-Sealers/AFM-SafeCoat-AcriGlaze

"Eco Art by mayah" utilizes recycled/reused and earth-friendlier materials whenever possible.


MORE ART BLOGS:

Eco Art: Card Embroidery
https://www.curezone.org/blogs/fm.asp?i=2413437

Eco Art Postcards: https://www.curezone.org/blogs/fm.asp?i=2413116

Eco Art: Nature Tea Tags
https://www.curezone.org/blogs/fm.asp?i=2412980

Eco Art: Altered Greeting Cards https://www.curezone.org/blogs/fm.asp?i=2412175

Art: Faces of America https://www.curezone.org/blogs/fm.asp?i=2412043

Doodle Art: "ET Bacteria"/"Entangled" https://www.curezone.org/blogs/fm.asp?i=2411816#

Eco Art: Summer 2018
https://www.curezone.org/blogs/fm.asp?i=2411814

Eco Art: String Theory:
https://www.curezone.org/blogs/fm.asp?i=2411711








Add This Entry To Your CureZone Favorites!
Print this page
Email this page
Alert Webmaster