EcoArt:"Voyager-Recipient Unknown"
On August 20 and September 5, 1977, the Voyager probes were launched by NASA. After 41 years, they're both still operational and communicating with NASA; both have left our solar system and are in interstellar space.

Date: 8/5/2019 10:14:41 PM ( 3 y ) ... viewed 1019 times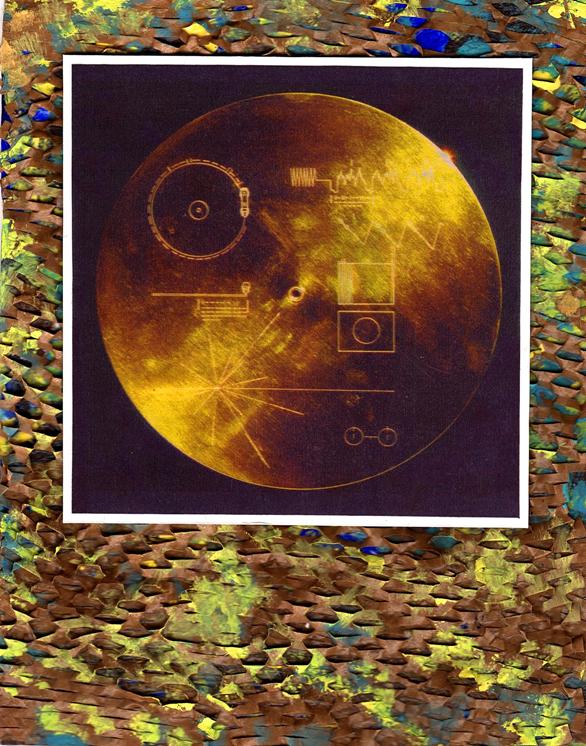 "Voyager: Recipient Unknown" Co-Creation: LFIRE and Eco Art by mayah(2019) 8" x10" mixed media art

This is a co-creation with my artist friend LFIRE. I sent her some stretchy brown packaging material and she made a large mixed media art work utilizing it. (see her blog: https://www.curezone.org/blogs/fm.asp?i=2426398 ) Then she sent me this smaller piece so I could see what it looked like. She told me it was difficult to work with as it is so stretchy. The background is painted first, then the stretchy packaging material is added on with glue. I added the newspaper photo*, coated with acrylic and glued onto a thin layer of cardboard.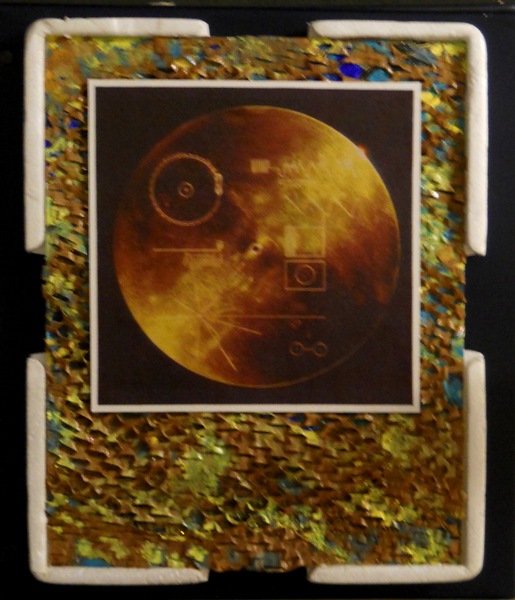 "Voyager" framed with reused Styrofoam packaging material



Looking at this detail photo, you can see the paint color peeking through the mesh openings of the packaging material.



*Los Angeles Times newspaper, Sunday edition, July 21, 2019. The newspaper caption states: "THE GOLDEN RECORD on the Voyager features playing directions, along with greetings, music, and natural sounds. It's still hurtling through space, recipient of the message completely unknown." (Science & Society Picture Library/Getty Images).

To see the digital image and read the online article about it go to: https://www.latimes.com/books/la-ca-jc-review-vinyl-frontier-jonathan-scott-20190711-story.html

Read more about the Voyager probes:

"Part of the Voyager program is to study the outer Solar System. Voyager 2 is a space probe launched by NASA on August 20, 1977...It is the only spacecraft to have visited either of these two ice giant planets (Uranus and Neptune). "Voyager 1 is a space probe launched by NASA on September 5, 1977. " "On August 25, 2012, Voyager 1 became the first spacecraft to cross the heliopause and enter the interstellar medium. Voyager 2 left the heliosphere for interstellar space on November 5, 2018, becoming the second artificial object to do so, and has begun to provide the first direct measurements of the density and temperature of the interstellar plasma."

"Each Voyager space probe carries a gold-plated audio-visual disc in the event that either spacecraft is ever found by intelligent life-forms from other planetary systems. The discs carry photos of the Earth and its life forms, a range of scientific information, spoken greetings from the people (e.g. the Secretary-General of the United Nations and the President of the United States, and the children of the Planet Earth) and a medley, "Sounds of Earth", that includes the sounds of whales, a baby crying, waves breaking on a shore, and a collection of music, including works by Wolfgang Amadeus Mozart, Blind Willie Johnson, Chuck Berry's "Johnny B. Goode", Valya Balkanska and other Eastern and Western classics and ethnic performers." https://en.wikipedia.org/wiki/Voyager_1 https://en.wikipedia.org/wiki/Voyager_2


MORE Art and Space:
"Space-Time-Matter-Energy"
https://www.curezone.org/blogs/fm.asp?i=2426060



Add This Entry To Your CureZone Favorites!
Print this page
Email this page
Alert Webmaster