EcoArt: Paint Palette Creations
Whenever I use acrylic paint for an art project, I mix it on golden-colored unbleached waxed paper. I usually reuse the waxed paper palette as a protective layer on my art table for gluing things, but if the left-over paint makes an interesting pattern or colorful splotches, it will be saved to reuse for future art projects.

Date: 9/15/2019 11:18:54 PM ( 28 mon ) ... viewed 818 times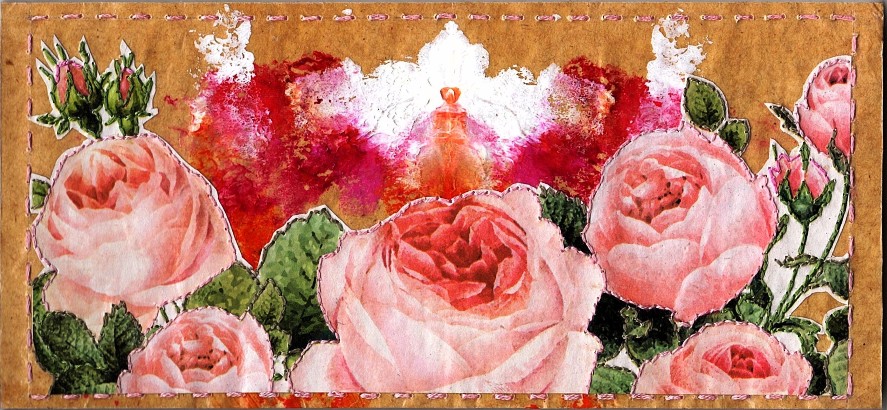 Eco Art Rose Placard by mayah(c)2019 8.5" X 4" x .25" made from magazine image of roses reinforced with acrylic glaze on recycled paint palette (acrylic paint on waxed paper); hand embroidery. Styrofoam backing.





Eco Art by mayah(c)2019 Pink Paint Palette Flowers: Approximately 8" x 9" Reused paint palette (acrylic paint on unbleached waxed paper); flower images from "The Whole Seed Catalog/From Baker Creek Heirloom Seeds/2018"* reinforced with Rhimax paper** and coated with acrylic glaze***; large white flower from thrift store; white scrap paper background; thrift store frame.

This piece looks deceptively simple but took a loooong time to make. Started out innocently enough with the paint palette, then added the flowers to it. The flower images are reinforced with Rhimax to make them look a little "3-D", and the edges painted with matching color. The flower images and palette are coated with clear acrylic glaze. Was going to make a placard out of it, then thought it needed more depth, so decided to add it to the outside of the frame instead of a simple cardboard backing. The front and back of the frame was filled in with cardboard, painted to complement the frame's color, then the background white paper added, then the final flowers/paint palette.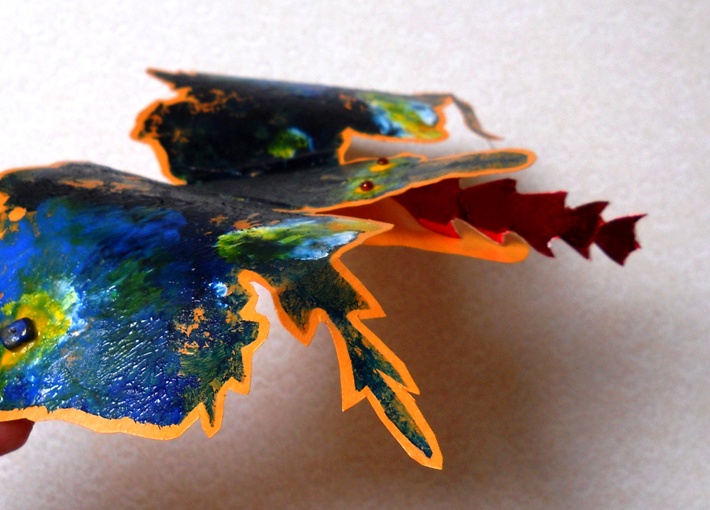 Eco Art by mayah(c)2019 "Creature" approximately 8" X 5" x 1" Reused paint palette, reused mailing envelope and junk mail, beads, acrylic glaze.

This was fun to make--the paint on the palette looked like a creature of some sort to me; I cut it out and put beads on it for eyes and on the "wings". Then I thought it looked sort of dragon-ish so added the mouth piece and red "flame". G.O.T. lives!



Eco Art by mayah utilizes reused/recycled/earth-friendlier materials whenever possible.

*Baker Creek Heirloom Seed company: https://www.rareseeds.com/

**RHIMAX 100% post consumer recycled paper product: https://www.marylandpaper.com/products

***AFM Safecoat AcriGlaze: http://www.afmsafecoat.com/products/clear-finishes/safecoat-acriglaze-gloss-and-matte


MORE Recent Eco Art:

Mini Art Pieces: https://www.curezone.org/blogs/fm.asp?i=2427353

Homage to Woodstock: https://www.curezone.org/blogs/fm.asp?i=2426938

Book of Oddities: https://www.curezone.org/blogs/fm.asp?i=2426820

"Voyager-Recipient Unknown" https://www.curezone.org/blogs/fm.asp?i=2426575







Add This Entry To Your CureZone Favorites!
Print this page
Email this page
Alert Webmaster