Beaghmore stone circles(Ireland) ベーグモアストーンサークル(アイルランド) by UtsU .....
Meaning of Beaghmore stone circles in Ireland
Date: 6/4/2015 10:54:07 PM ( 8 y ago)
Beagmore, Ireland A lot of stone circles アイルランドのベーグモアー、沢山のストーンサークル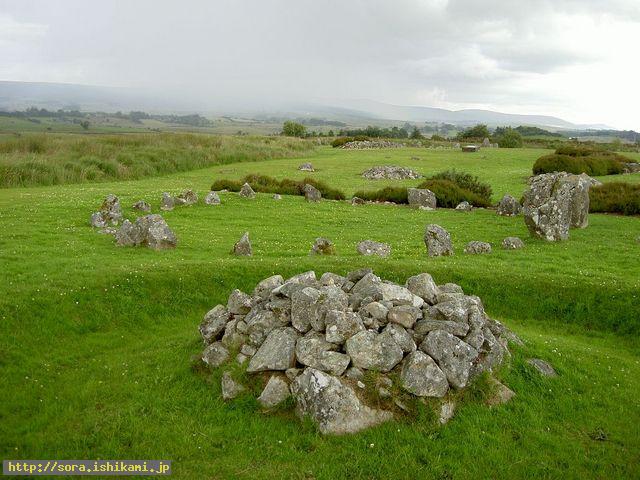 Big and small, various stone circles welcomed us with a lot of small flowers.
I felt as like the time stopped and wanted to stay here forever.
I thought Beaghmore is the original place to create human beings.
Big stones are maybe leaders of ISHIJINS and some of stones show their expressions clearly.
A small mound of small stones expresses as follows:
ISHIKAMI fell down as a group of atoms like the mound.
Atoms who wanted to move came from their parent ISHIKAMI and became various forms.
They created stone circles and directed atoms to appear human beings.

A hollow like an earth circle exspresses that some ISHIKAMIS were very heavy and dented when they fell down.

This picture does't shows long line stones.
They express that ISHIKAMI came from far Sagittarius.
introduced from  http://sora.ishikami.jp/image_dir/index.php?id=20070728001612
"Solving the Enigma of the Earth" by Taeko Shiraki http://sora.ishikami.jp/ http://sora.ishikami.jp/e/index.html
小さな土塁
大小さまざまなストーンサークルが、小さなお花をいっぱい咲かせて待ってくれていました。
時間が止まったようで、何時までもここにいたい、人間の創られた原点と思えました。
大きな石は指導的なイシジンで、それぞれの石には表情がよくわかるのもあります。
小石の小山は、イシカミがこのように原子の塊で降りてきて、そのうちの動きたい原子が親から出てきて、いろいろな形になってサークルを作り、その中で原子に号令をかけ、人間を発生させたと伝えているそうです。

周堤墓のような凹みは、イシカミが降りてきた時、重くて凹んだものもあることを知らせているそうです。

遠くて見えませんが、長い直線の石の配列は、イシカミが遠いいて座からやってきたことをあらわしているそうです。
元記事 http://sora.ishikami.jp/image_dir/index.php?id=20070728001612  
記事全て 「地球の謎解き」さんより引用 http://sora.ishikami.jp/
Popularity: message viewed 875 times
URL: http://curezone.com/blogs/fm.asp?i=2257613

<< Return to the standard message view
Page generated on: 3/25/2023 2:40:36 AM in Dallas, Texas
curezone.com