The liver-flush potion potion is consumed 2 hours after the second dose of
Epsom Salts
because it was the optimum time to maximise the effect. This was worked out through experimentation by the flush pioneers, such as
Hulda Clark
e. The question refers to the bile ducts which are dilated by a suitable solution of
Epsom Salts
and at the same time the sphincter of Oddi relaxes and the gallbladder contracts. This is commonly called bile ducts 'open'. The ducts close after an about an hour which has be determined by formal medical experimentation and the results have been posted here several times.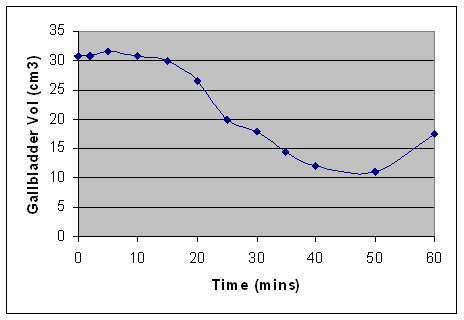 Graph showing the contraction of the gallbladder to oral magnesium sulphate
After the bile duct closes the digestive system enter what is known as the migrating myoelectrical complex MMC Phase.
The MMC has a function to clear material and bacteria from the cut between eating and has a direct influence on the enterohepatic cycling on bile. Critically the the gallbladder enters a 'rapid' filling phase in which bile is flows through the hepatic bile ducts at increased volumes. After about 2 hours biliary system is primed and ready.
The liver-flush protocol opens the ducts twice before the flush potion is taken to ensure the maximum expulsion is achieved with the olive oil and lemon juice mixture.