*Warning - super long post*
This is something I felt that I needed to post. I analyzed Daniel Miller's cured video looking & listening for little clues that he probably forgot to mention that contributed to his complete healing. I am also adding things that I have discovered through my own self-experimentation.


First, a few definitions of compounds below.


Triamcinolone acetonide - is a synthetic corticosteroid used to treat various skin conditions, relieve the discomfort of mouth sores and aid in reducing inflammation. It is in the category of being an immunosuppressant drug & like I mentioned before, it should NOT be used when infections are present as it could make conditions worse.


Fluoride - is an element found naturally on the earth's crust. It protects teeth from demineralization & then remineralizes teeth. It can be toxic if a large amount of it is ingested. I think this compound found in many toothpastes should be avoided when dealing with EC. It seems to just aggravate the condition more. I often found it strange that the buildup of my lips would puff up & turn white when exposed to water but they actually did not turn white or puff up when I cleansed them with a saline solution. Now I know that fluoride had a role in that cause because New York's tap water is fluoridated.


Sodium Lauryl Sulfate (SLS) - is an anionic (a class of synthetic detergents in which the molecules do not ionize in aqueous solutions) detergent & foaming agent. It being a detergent makes it an irritant, especially to weak or vulnerable skin. It is another substance to avoid when suffering from EC.


Okay, now to the longer and super analytical part. I apologize if the information may seem random at times. Some of the things I am writing here are off the top of my head so, I want to mention them quickly before I forget to include them.


Exfoliative cheilitis seems to have different forms. Its main form is inflammation of mucous membranal tissue, which the mucosa of the mouth is. What are mucous membranes? They are linings of mostly endodermal (the inner germ layer that develops into the lining of the digestive and respiratory systems) origin, covered in epithelium (a pliable sheet of tissue covering internal organs and other internal surfaces of the body), which are involved in absorption and secretion. This part here is a very important part because with the help of Longterm's information, I have suspected that the inflammation in the membranous tissues of the lips is not allowing them to absorb or secrete saliva. This is where the white gunk/slime originates. The saliva cannot be secreted or absorbed by the minor salivary glands of the lips, which then produces a drying effect.


The keratinization of the lips is a defense mechanism the body is using to protect the underlying skin because the body is trying to heal itself. What is inflammation? Inflammation is the body's attempt at self-protection; the aim being to remove harmful stimuli, including damaged cells, irritants, or pathogens - and thus, begin the healing process. Does this make sense in the form of exfoliative cheilitis? ABSOLUTELY! The buildup of skin on the lips is also a process of the body extracting damaged cells. This is why the buildup eventually falls off. The human body sure is efficient!


The moisturization method proves some credibility about EC being a sort of open wound. However, not any moisturizer will work. Ointments of a healing nature should be used. I have experimented with Aquaphor, Bepanthen, Vaseline, and Neosporin. Everything I mentioned allowed me to see signs of improvement except for the Aquaphor. It made the buildup on my lips appear white & it just didn't work for me. I'm not saying it should be avoided because it did work for Daniel Miller. The neosporin was a big surprise to me. It really allowed me to see a big difference in just a few days. I discontinued its use because it has antibiotic ingredients, and I needed something that could be used safely for a long period of time. But the fact that neosporin worked so well made me believe that EC can indeed be categorized as an open wound.


Enter Bepanthen, recommended by a curezone member named Sargvy, it has been exceptional at controlling my buildup. I discontinued its use at some point because it would cause the inner mucosa part of my mouth to dry up slightly and produce trace amounts of dry white saliva, especially when I talked a lot. The Bepanthen I was using that works really well is this one pictured below. I have begun to use it again but only occasionally.
This Bepanthen differs slightly from the nappy diaper rash formula in the sense that it is more focused towards wound healing. It also supplies the applied area with vitamin B5 in a synthesized version of pantothenic acid, which helps with irritation & wound healing.

Someone posted something about a product called, "Mercy Cream" before, and I want to talk about that briefly. It is a product made in Ghana. It contains the following ingredients: Alchornia Cordifolia, cassia alata, guto, terminalia superba, and aloe vera. I actually tried this cream and it made the buildup on my lips turn so hard that they were peeling themselves off. It made clipping them off with a cuticle cutter super easy. However, the overpowering smell of the cream was something that would take me some time to get used to, especially from it being right under my nose. As a person who is 20% African I just want to say thank you mother Africa for trying.

I do want to mention that in my quest to try to find the mercy cream I also found a product called, "GT African Black Soap." It does an amazing job of cleaning my lips. My lips get stained whenever I eat spaghetti with sauce or pizza. The black soap cleanses my lips effectively & gently. Its ingredients are: plaintain skin, cocoa pod, and witch hazel extract. It looks like this:




If anyone is interested in those products I purchased them from Philip at GT African Trading and his store is located in New York. Thankfully this city has a super multi-cultural environment so, if you wanted to, you can be exposed to just about any culture & their healing practices.


Daniel Miller and a summary of his successful healing.


In his cured video, Daniel mentioned that he got sufficient rest, ate healthy, exercised regularly in the form of running, got at least a couple of hours of sun every chance he got (helps in the skin's production of vitamin D see this link for more information regarding sun exposure & its vitamin D boosting benefits), he used a medium steroid cream lightly along with aquaphor, and above all else--he lived his life.

Daniel used this exact same steroid cream pictured below.


This same cream is also used by veterinarians to treat allergic dermatitis and summer eczema in dogs. So don't freak out if you see it being recommended as such. When taken orally, Triamcinolone acetonide is reported to be eight times stronger than prednisone. Triamcinolone acetonide also goes by the name of "Kenalog" but that version of it is usually administered via injection even though there is a topical version.

Daniel applied a thin layer of the triamcinolone acetonide 0.1% cream. He most likely used it before going to bed for about a few weeks and then used it sparingly after that. I think it was the biggest contributing factor (second only to proper diet, rest & exercise) in the improvement of his condition. Triamcinolone acetonide should not be used when infections of any kind are present. It is a steroid, and not an antibiotic.


Daniel also mentioned in his cured video that he does not use flouride/SLS toothpaste. I began not using toothpaste with those additives also and guess what? I saw an improvement in my condition. There is much less buildup for me now. The only problem with those natural types of toothpastes that I have discovered is the fact that they won't be totally free of "unnatural" ingredients. Some of them will have something called "carrageenan" because it acts as a thickener or stabilizer. Toothpaste needs that in order to have an effective delivery system in the form of a paste or gel. Carrageenan has been viewed by some people as being a carcinogen, but some reports dismiss this as a fact. Carrageenan occurs naturally in seaweed.

The best toothpaste I have used is Toms of Maine Botanically Bright Whitening Toothpaste.
As you can see in the image, it is fluoride & SLS free. It does contain carrageenan but Toms of Maine claims that it is derived from the most natural source, which is seaweed. You can see more info of their product in this link and see the ingredient list for yourself. This toothpaste also contains xylitol. This is a sugar alcohol that actually combats bacteria instead of feeding it. Yep, nature sure is crazy like that.

Current studies show that xylitol is not harmful to humans but this claim may change in the future once more detailed studies are concluded. However, xylitol is very harmful, even fatal to dogs.


But back to the toothpaste, I tried the peppermint version and it is good, but I wasn't too sold on the flavor until I tried the spearmint version. It is by far my favorite version and I will be buying that one from now on. Oh, and in case if you were wondering, yes, it is extremely hard to find so, thank goodness for Amazon.com -- your closest ally when trying to acquire rare products.


I want to add that fluoride can still be used (only if you choose to) because its dental benefits simply cannot be denied. Water fluoridation is known as one of the ten greatest public health achievements of the 20th century. Since then, there has been a reported 40% to even upwards of a 70% reduction in tooth decay among the population exposed to it. However, when exposed to large amounts of fluoride it is deemed toxic. General water fluoridation has been cited to be a practice that is closely monitored so as to not add too much of the additive. In conjunction with a more natural toothpaste I have been using a mouthwash for dry mouth.

The best one I have found is this one from Act pictured below.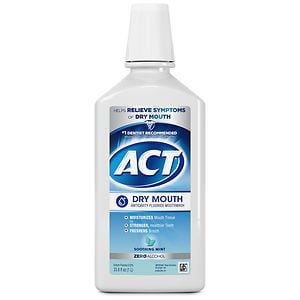 After I use it the inner mucosa of my mouth is super clear and glossy. It is supposed to be that way all the time. I have also considered EC to be a contributor to dry mouth type symptoms and I was correct to believe that. This is why the mouthwash helps a lot. If you choose to use fluoride then you can use it in the form of a mouthwash. Fluoride when mixed with SLS just causes too much unnecessary irritation. But fluoride in a mouthwash seems to be okay in my observational use of it. In order to minimize overexposure to it I usually spit out the mouthwash through a straw or rinse my lips if it contacts them. This mouthwash is also alcohol free.
Sun exposure

The sun aids in helping our skin to produce vitamin D. If you are going to try to expose yourself to the sun then do so with nothing on your lips. It is the sun's UV-B rays that assists with the production of vitamin D. It is more beneficial to do this in areas that have a tropical climate or during the summer time. Daniel did mention tanning salons in his cure video but I would not recommend them. They are just far too unnatural.
Conclusion

As a 20 year EC sufferer, I know the toll this disease has on a person. I am just breaking out of my pod of embarrassment with this condition and I was pretty much in the dark about it for 18 years. I thought I was the only person in the world that suffers from this and heck, I didn't even know what it was called until about two years ago in 2012. The moment I conjured up all of my courage to face this thing head on is when I began unraveling a lot of information about it. I have impressed even medical "specialists" with my vast knowledge of terms regarding this condition. I believe that knowledge is key in trying to determine the cause of one's EC because I have found out that it is not only resilient, but also variable to each individual. A malfunctioning or weak spleen has even been tied to some cases, which is truly frightening.

I hope this post helps more than anything else. I am not a doctor so, the products that I have mentioned on here have displayed many benefits in my uses of them. I have also tried to summarize Daniel's EC healing practices as best as I could understand them from his previous posts & videos.

I truly hope that we can all be as lucky as Daniel Miller and finally be able to live our lives without being self conscious of our lips. The levels of embarrassment I have had to face have been too much to bear at times. I mean, 20 years folks, two decades of EC! My condition has definitely improved over the course of those years because my lips actually looked worse than Daniel's worst picture along with my lips giving off a faint odor of decay. As an adult who is currently 36 years of age, I am simply tired of running from my EC. It is now time for me to face this thing and put a stop to it.
To those people who can't seem to get over this condition emotionally, I say try to find a hobby that can bring you joy. Or try to learn a new skill. This will help to deter your mind away from the negative mental effects of EC. I have also learned that talking about your condition to people you might meet takes a huge load off your shoulders. Every doctor I have seen has concluded that "EC" does not seem to be contagious. I think that it is some type of rare, self-contained, autoimmune disorder found in a small percentage of people in the world.
Sorry folks, had to edit this & fix the posted links. They should all work now.