Skin Parasite or Morgellons Jelly-Fish like keratin fibroblast gone wild? See my photos and notes from recent study published by Marrianne Middelveen and Raphael B Stricker. Early stage Morgellons Fillament Fibroblast? (40X and 400X microscope photos of suspected Morgellons Sample I took from inside human skin tissue - see arrow in photos pointing towards what might be ketatin fibroblast as part of or created from Morgellons "filament" bundle):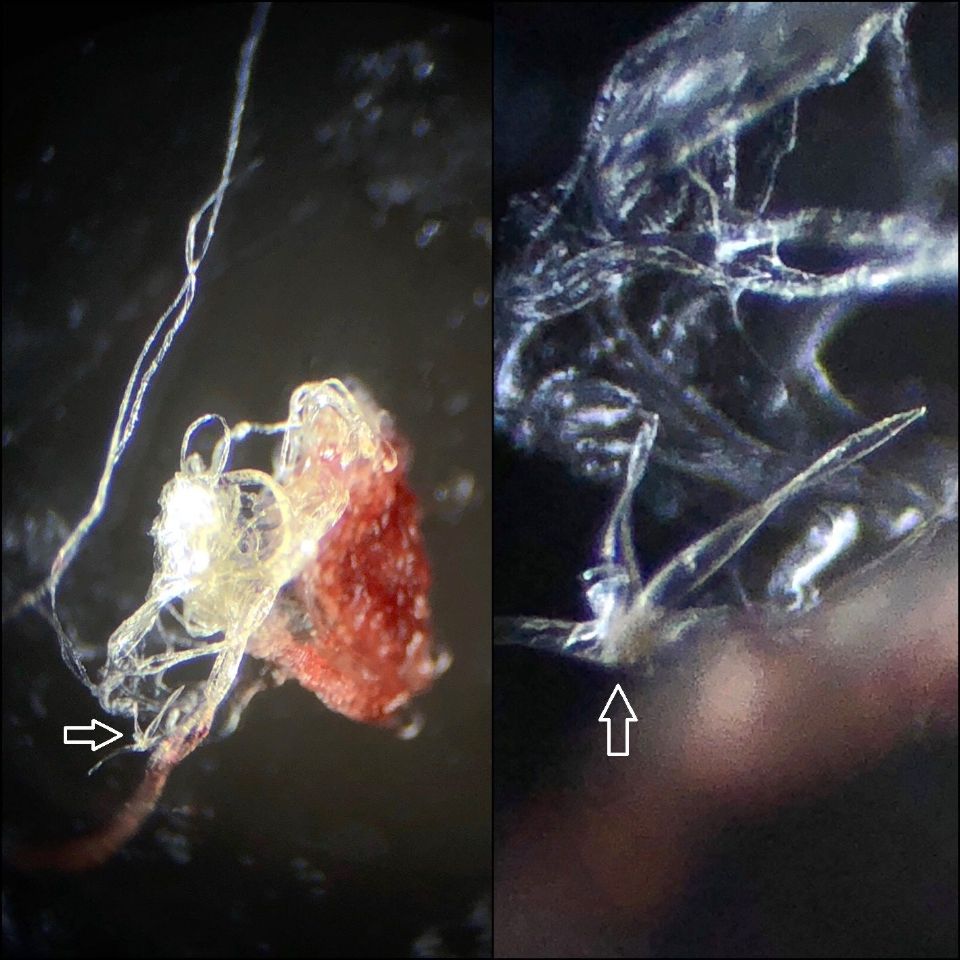 Fully developed Morgellons filaments? (40X Microscope photo of Jelly-fish like Sample I also took from inside human skin tissue is approx 1/2 inch in length as shown (estimate 1"-2" in total length if filaments were extended/stretched out) - the tentacles or filaments are extremely sticky and hardy, not easily torn, with fishing-line-like tinsel strength:
***** Here is excerpt from: 'Morgellons disease: a filamentous borrelial dermatitis' by Marrianne Middelveen and Raphael B Stricker: "The precise mechanism of Morgellons filament formation has not been elucidated. In MD lesions, collagen and keratin filaments arise from proliferative keratinocytes and fibroblasts in human epithelial tissue.10,11 Borrelia has the capability to invade fibroblasts and keratinocytes and to replicate inside these cells.21–23 We speculate that infection and replication of Borrelia within keratinocytes and fibroblasts alter keratin and collagen gene regulation. Furthermore, intra- cellular sequestration of Borrelia may be a factor contributing to the development of refractory infection and MD. Borrelia spirochetes have been isolated in vitro from monolayers of keratinocytes and fibroblasts that were treated with antibiotics. 21,22 Spirochetes were detected in MD dermatological tissue taken from patients who had been given aggressive Antibiotic therapy.13 Persistent infection and resistance to Antibiotic treatment may therefore result from sequestration of Borrelia spirochetes within keratinocytes and fibroblasts in MD patients."