H. PYLORI [...through another window with a view...]:
THE CAUSE: nutritional deficiencies due to a poorly chosen diet. [i.e. the typical Western diet is a poorly chosen one.]
This sets up an enviornment for the bug to set up shop. as they dig in, they produce more acid in stomach, creating sores in the walls where they nest. The situation spirals downward as this also affects the ability for stomach and upper intestine to adsorb nutrients. anti-acids are a short term remedy as the h.pylori usually adjust and become resistant.
THE SOLUTION: Nutritional up-take & enviornmental [inside] clean-up. This lay with the remedies of late 19th and early 20th century, the old-time medicinal use of blackstrap molasses, apple cider vinegar, oral sulfur and molecular iodine, rose oil and quinine testifies to a remarkable understanding of human physiology by our ancestors.
http://nobelprize.org/nobel_prizes/medicine/laureates/2005/press.html
RECENT HISTORICAL NOTE
"Nobel Laureates in Physiology or Medicine made the remarkable and unexpected discovery that inflammation in the stomach (gastritis) as well as ulceration of the stomach or duodenum (peptic ulcer disease) is the result of an infection of the stomach caused by the bacterium Helicobacter pylori.
Robin Warren (born 1937), a pathologist from Perth, Australia, observed small curved bacteria colonizing the lower part of the stomach (antrum) in about 50% of patients from which biopsies had been taken. He made the crucial observation that signs of inflammation were always present in the gastric mucosa close to where the bacteria were seen.
Barry Marshall (born 1951), a young clinical fellow, became interested in Warren's findings and together they initiated a study of biopsies from 100 patients. After several attempts, Marshall succeeded in cultivating a hitherto unknown bacterial species (later denoted Helicobacter pylori) from several of these biopsies. Together they found that the organism was present in almost all patients with gastric inflammation, duodenal ulcer or gastric ulcer. Based on these results, they proposed that Helicobacter pylori is involved in the aetiology of these diseases."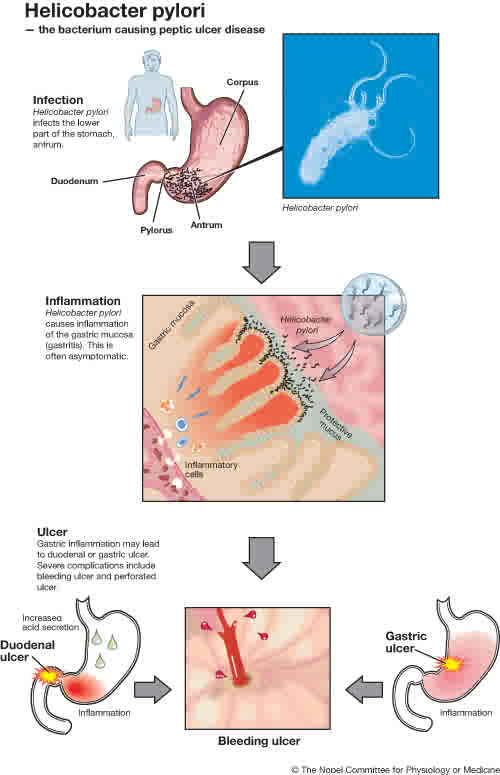 "Even though peptic ulcers could be healed by inhibiting gastric acid production, they frequently relapsed, since bacteria and chronic inflammation of the stomach remained."
This was probably the case because Marshall & Warren relied on a pharmacy cure for this dis-ease. They may have put the cart before horse on this because others say that it is the h. pylori that creates the excess stomach acid situation to exist - i.e. it is their waste product! Hence, their is a need for a natural cure for this condition.
"[Although]... In most individuals Helicobacter pylori infection is asymptomatic. However, about 10-15% of infected individuals will some time experience peptic ulcer disease. Such ulcers are more common in the duodenum than in the stomach itself. Severe complications include bleeding and perforation.
It is now firmly established that Helicobacter pylori causes more than 90% of duodenal ulcers and up to 80% of gastric ulcers. The link between Helicobacter pylori infection and subsequent gastritis and peptic ulcer disease has been established through studies of human volunteers, treatment studies and epidemiological studies."
MALIGNANCES ASSOCIATED WITH HELICOBACTER PYLORI INFECTION
http://cancerweb.ncl.ac.uk/cancernet/304880.html
"There is increasing evidence that Helicobacter pylori infection of the stomach is associated with both the initiation and promotion of GASTRIC CANCER." [Emphasis added.]
http://www.carcinogenesis.com/content/2/1/9
"Iodine deficiency has a profound negative effect on the immune system [100]. A significant immune deficiency has been reported among patients with GASTRIC CANCER, thyroid cancer and goiter [101].
Iodine
was also found to increase immunoglobulin G synthesis in vitro in human lymphocytes [102]. Impaired capacity of immunoglobulin production in active cancer patients has been observed [103], which might be modulated by
Iodine
supplementation. These observations indicate that
Iodine
has a direct effect on the immune system and anticancer defenses."
LIPIDS
"It has been previously discussed that the essential lipid linoleic acid present in cane molasses [BSM] has antitumor effects. Such lipids are also found at high concentrations in rose oil [105], which has a history of medicinal use dating back at least 5,000 years. The traditional Indian Ayurvedic medical practice uses oral rose oil for the treatment of a variety of inflammatory conditions, as well as emotional stress [106]. Anti-anxiety effects of rose oil have recently been confirmed [107]. Rose oil is a potent inhibitor of the growth of Helicobacter pylori [108], implicated in the etiology of gastric cancer. Therefore, rose oil may exert a "sanitizing" effect in the gut. It has also been suggested that rose oil may be valuable for human consumption because of its high unsaturated lipid content [105]."
FLORA & PROTECTION AGAINST ALIEN MICROBES
"Impaired digestion has been implicated in the pathomechanism of cancer for nearly a century:
The resident bacterial flora in the digestive tract plays an important role in metabolic activities, nutrient adsorption, immune function, trophic effects on the intestinal epithelia, and protection against alien microbes [124]…
…Opportunistic bacterial and parasitic infections also occur in cancer [128-131] that amplify the downward spiral of diminishing nutrient processing capacity of the gut. It is therefore critical to cleanse the digestive and excretory system in cancer patients.
Again, if we research the medical practices of the 19th and early 20th centuries, we find that oral sulfur was widely used to "clean out the system" [31]. Sulfur is safe to consume [132] and has a wide spectrum of antibacterial and antiparasitic effects [133]. It is also a potent scavenging agent for toxic heavy metals such as mercury, cobalt or silver that have been reported to concentrate in malignant tissue [97]. Oral sulfur was listed in the Pharmacopoiea [133], but in the second half of the 20th century its medical use was abandoned. Another sanitizing agent both for the gut and the urinary system is apple cider vinegar (ACV). Such use of ACV has a historical record dating back over 3,000 years [134]. In addition, ACV has been used for the treatment of a number of specific conditions [134], which suggests that it has a beneficial systemic effect, much of it remains to be re-discovered by methods of modern medical science."
ENERGETIC DESCRIPTION OF DIS-EASE PROCESSES W/THE MECAHNIC, PHYSICO APPROACH
"Reich also made fundamental contributions to understanding the emotional aspects of the disease process and in particular cancer that he determined to be a manifestation of subtle energetic processes in the body [138]. We are now aware that emotional stress down-regulates the immune system and makes people more prone to cancer [139-142]. Reich's analysis of the subtle energetic processes in cancer patients and their relationship to those emotional blocks makes his research perhaps the most original and intriguing area of study in the history of 20th century medical science.
The unification of a subtle energetic description of disease processes with our current mechanistic, physico-chemical approach is both inevitable and necessary to solving the mysteries of degenerative diseases such as cancer, which claim so many lives today."
OVERCOMING TUMOR ADAPTION
"Multidrug-resistance (MDR) manifests through an ATP-dependent drug efflux pump, the P-170 glycoprotein or MDR pump [144]. Quinine has been found to reverse MDR in a variety of tumor cell lines and has been safely used in combination with chemotherapy with leukemias, myelomas and lymphomas [145-147]. Very little information is available on direct cytotoxic effects of quinine [148].
Quinine has a history in medicine besides its use as an anti-malarial. Quinine was used to treat inflammations and fevers [149] and was prescribed as a body tonic to strengthen the system [149,150]. The beverage Tonic Water has preserved in its name the long-forgotten medicinal origins of quinine. However, the concentration of quinine in Tonic Water today is too low for any beneficial systemic effect. Therefore, the use of quinine in cancer may be warranted both for its anti-inflammatory properties as well as its inhibitory effect on tumor adaptation to therapies."
DISCUSSION
"This review has considered several critical nutrient deficiencies that may contribute to the manifestation of a number of cancers, as well as nutrients that have been found deficient in cancer cells. It is also observed that traditional nutritional and medicinal agents used in the past provided a rich supply of these critical nutrients and assisted in the restoration of digestive and excretory functions. Again, blackstrap molasses is a source of plant phenolic compounds, the majority of the vitamin B complex, critical minerals such as iron, zinc, selenium, magnesium and potassium, as well as essential unsaturated lipids.
Rose oil is another historically proven source of essential lipids. Our current understanding on the vital role of folate and vitamin B12 in maintaining DNA integrity and function should prompt us to reevaluate dietary requirements for these essential vitamins. Iodine deficiency, which has been demonstrated in cancer, was also shown to impair the immune system and increase the incidence of several cancers. The disinfecting effects of oral sulfur and apple cider vinegar in the gut and the urinary system help restore digestive and excretory functions, a cornerstone of early medical practice.
A large number of studies demonstrate the inadequacy of Western dietary habits for supplying adequate amounts of critical nutrients and also demonstrate the fundamental role of nutrition in disease prevention and control. Hippocrates, the father of modern medicine stated, "Your food shall be your medicine and your medicine shall be your food." Currently, both in the public and the scientific community are lacking in their attention to the effects of multiple nutritional deficiencies on the human organism.
It seems reasonable to conclude that a number of coincidental critical nutritional deficiencies can lead to and co-exist in the state of cancer. Disregulation of numerous regulatory and metabolic pathways may occur at multiple levels, eventually leading to the disintegration of metabolic and regulatory networks in terminal cancer. This suggests that cancer is a systemic disease, and that a tumor is likely a late-stage effect rather than the cause of the disease itself. It also explains why cancer typically recurs after the eradication of individual tumors. Therefore, focusing on the cancer cell cannot lead us to understanding the fundamentals of the disease. Here, the results speak for themselves.
It appears unrealistic that we can successfully intervene into this vast out-of-balance network of physiological processes with single active agent therapies and restore balance and health. The time has arrived to abandon one-dimensional thinking and consider the human organism more like a matrix or interconnected system, instead. The large body of available data on metabolic and regulatory processes coupled with methods of information technology should allow us to establish correlations between apparently distant molecular, cellular and physiological events. This would bring a true paradigm shift in our approach to understanding and treating diseases.
The old-time medicinal use of blackstrap molasses, apple cider vinegar, oral sulfur and molecular iodine, rose oil and quinine testifies to a remarkable understanding of human physiology by our ancestors. Such nutritional approach allows a unifying perception of cancer that could recast it as a single disease. This would also suggest that all cancers may arise out of a common cellular/physiological event and, in fact, new evidence points into this direction.
Cancer stem cells for leukemias [151], brain cancer [152] and
Breast Cancer
[153] have been described lending support to the 40 years old idea that all cancers may originate from a common progenitor. Thus, evidence is accumulating in support of the view that cancer may actually be a single disease and, as such could be treated by a single therapy.
Our working hypothesis was that by re-supplying critical nutrients to cancer patients in an oral nutritional supplement cocktail and simultaneously cleansing the digestive and excretory systems by using the described methods of past centuries of medicine, we might cure a wide range of or perhaps all types cancers. Essential ingredients of the supplement include blackstrap molasses, apple cider vinegar, sulfur, quinine, rose oil, folic acid, vitamin B12 and molecular iodine [patent pending]. This supplement is currently being tested in a variety of stage III-IV cancer patients refractory to current therapies.
In conclusion, this paper presents the case that multiple, concurrent nutritional deficiencies may play a fundamental role in tumorigenesis and suggests that the disease process could be reversed by re-supplying the required nutrients in adequate amounts. In addition, a new approach to cancer is advocated that would unify our traditional mechanistic, physico-chemical methodologies with subtle energy-based concepts, under the umbrella of contemporary rigorous scientific testing methods."