What can we do?
As I've been reading this forum, I keep thinking, "What can we do about it?" That's the hardest part of all this, for me, watching it unfold and feeling helpless. That's when I focus on changing the hardest thing of all to change - myself. But that's another story ...
I realize that there will probably be groups of people asking us for money, which I'm always skeptical of. That being said, maybe we'll find a needle in the haystack and find a way to join together and better this world of ours (idealist in me, please don't shoot me down for that!).
I'll be keeping an eye out for actions people are taking and posting them here if I find them. In no way am I endorsing any of these groups; I can only glean what I can from the internet.
Here's the first one I found:
http://www.huffingtonpost.com/matt-petersen/bp-oil-spill---lets-all-j_b_59284...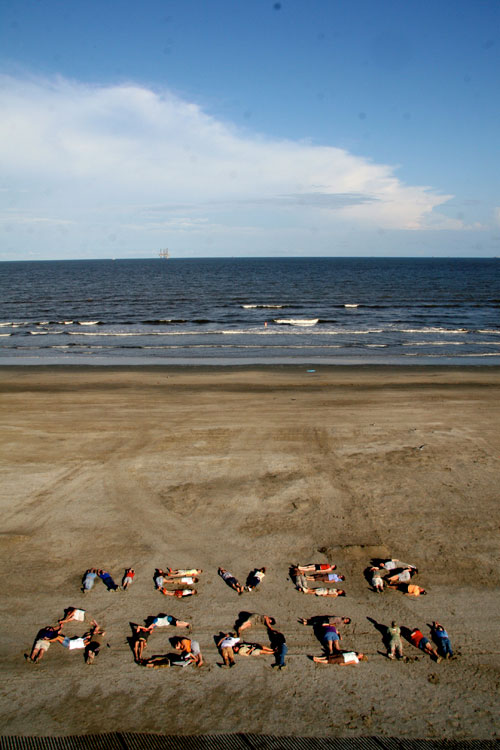 Matt PetersenPresident, Global Green USA
Posted: May 27, 2010 10:26 PM
BIOBecome a Fan Get Email AlertsBloggers' Index
BP Oil Spill - Let's All Join Together and Say, NEVER AGAIN
What's Your Reaction:
Inspiring
Enlightening
Infuriating
Scary
Helpful
Amazing
Innovative
Adorable
Read More: Barack Obama , BP Oil Spill , Congress , Exxon Valdez , Grand Isle , Louisiana , Oil Regulations , Green News
16
24
views
Get Green Alerts
Email Comments 21
Like most Americans, I continue to be depressed and angered by BP's wholly inadequate response to the tragic BP oil spill, despoiling the Gulf Coast and wetlands of Louisiana. Hopefully, the 'top kill' works to stop the continued leak. But if that succeeds, its only the beginning of what will take years, if not decades, to recover from the worst oil spill in our nation's history. The worst environmental disaster in our nation's history.
People in Louisiana have been working hard the last 4 1/2 years to rebuild - many sustainably, using green building, energy efficiency, improved indoor air quality, and solar power - their homes, neighborhoods and the region after the destruction of Katrina. Global Green has been on the ground here since just weeks after the storm, helping them to rebuild better and in ways that create lower energy bills, solutions to climate change, and green jobs.
Now these same communities are faced with another disaster, a product of lax regulation policies and cozy relationships with the oil industry (which started long before President Obama took office) combined with BP's cost cutting decisions that are devastating the wildlife, marshes and the people of Louisiana once again.
Global Green applauds President Obama on his long term policy of reducing our dependency on fossil fuels and his recent moratorium on new offshore oil drilling for six months, but believe he must go further. The magnitude of this spill -- and utter failure, if not criminal negligence, of BP to have sufficient contingency plans -- points to the the need to put a longer hold on deep water offshore oil drilling. We need an agency with regulatory and prosecutorial experience overseeing the oil industry, not the continued cozy ways of the past of
Miracle-Mineral-Supplement
.
The President's recent announcement of increasing fuel efficiency for cars, medium and heavy duty trucks was a step in the right direction. We need to go further -- accelerated fuel efficiency requirements for all transportation sectors along with investment in green, clean energy technologies that can provide jobs and economic opportunity for those communities devastated by the spill.
Global Green calls on President Obama and the federal government to urgently provide resources needed to stop the leak, clean up our beaches, wetlands and ecosystems, investigate the causes, and implement policies that will better protect our estuaries and people immediately.
Finally, now that President Obama has acknowledged that he takes responsibility, the full resources of the federal government must be deployed to the Gulf. BP may have the only equipment to stop the oil spill, but the US Government certainly has the equipment and manpower to manage a much more engaged and robust cleanup effort than we've seen to date from the anemic and wholly inadequate response of BP.
We call on President Obama to recognize the level of desperation and suffering the Louisiana economy, communities, wetlands and marine life - which provide much of our nation's energy and food, as well as critical ecosystems and species that make life as we know it possible -- are experiencing, and take action commensurate to the problem.
As I wrote about previously, Global Green and the Commercial Fishermen of America recently organized a community event to send a "human text message" to BP, President Obama, and Congress about their concern and anger about the BP Oil Spill. This was just days before oil hit their community's beaches and nearby wetlands.
We hope President Obama - and Congress - hears the voices which are saying "never again."
Let's all join the Gulf Coast communities in saying, NEVER AGAIN.
--
Author and activist Riki Ott is helping Global Green raise money for the families and communities affected by the Gulf Oil Spill. She has made her book "Not One Drop: Betrayal and Courage in the Wake of the Exxon Valdez Oil Spill" available as an e-book and is asking that people donate to Global Green in exchange for downloading this important and fascinating read. Learn More
Follow Matt Petersen on Twitter:
http://www.twitter.com/mathew_petersen
Related News On Huffington Post: