Moong Beans by msteve666 ..... Raw Food: The Vegetarian/Vegan
Date: 3/24/2008 2:16:21 PM ( 13 years ago ago)
Hits: 1,461
URL: https://curezone.com/forums/fm.asp?i=1139181

OK, I went to my local Indian food store and picked up a bag of moong beans:






While looking around I also saw, what I thought was just an out of the bag snack of Moong Vadi, which later I saw had a note:
IMPORTANT: To be consumed only after cooking

They tasted salty crunchy, the way they were, but what's the deal with that. So, if you are supposed to cook them, what's minimum you do with that.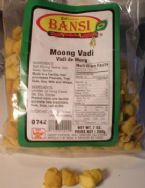 EDITED NOTE:
I ended up simmering the moong beans (1/4 cup) for an hour to 1 1/2 hours. I soaked the moong vadi for an hour in hot water, mashed it up and added to the beans. It was palatably tasteless, but that was fine for me.


<< Return to the standard message view
fetched in 0.05 sec, referred by curezone.com/forums/fmp.asp?i=1139181